The pandemic period caused by the coronavirus COVID-19 has become a special challenge for families. After all, new cases of domestic violence became known at this time. We cannot ignore this problem, because it is the Church that must be the first to guard family values.
His Beatitude Sviatoslav, Father and Head of the UGCC, emphasized this during the reporting day in the Kyiv Archeparchy.
After hearing the annual report of the Chairman of the Commission on Family Affairs Fr. Ihor Hrishchenko, the Head of the Church drew the attention of the Kyiv clergy to the issue of domestic violence. In particular, His Beatitude Sviatoslav emphasized that priests need to adequately respond to these challenges and counteract violence in the spirit of the Christian doctrine of family life.
The Head of the UGCC noted that our Church has never stood aside from problems in the family. Today the Ukrainian Greek Catholic Church is involved in the project "Stop Violence," which is implemented by the Institute for Religious Freedom with the participation of the Ukrainian Council of Churches and Religious Organizations.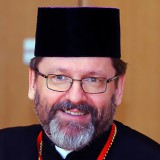 In this way, by working together, we want to help each family create an atmosphere of love, mutual respect, trust and acceptance for each family member. That is why it is important to talk about this issue in our religious communities, because thanks to educational work we save the family.
At this Fr. Ihor Hrishchenko noted that the time of the pandemic became a catalyst for family life. "The pandemic and quarantine have not been the cause of domestic violence. They have only exposed the problem, showing that it is difficult for people who have been living together for a long time to be close to each other."
The reason for this, according to the chairman of the Commission on Family Affairs, is the low awareness of people about married life. "Few people realize that true life in the family circle is a constant learning and work to improve emotionally, psychologically and spiritually. Marriage is often seen as a kind of obligation, but people often forget that the only duty that they have voluntarily agreed to is love, and it must be sincerely cherished," said the pastor.