The manual's aim is to strengthen the Stop Violence inter-faith initiative (family.org.ua), which was founded in 2020 by the Institute for Religious Freedom, and to make the efforts of churches in the field of countering domestic violence more effective and professional.
During the meeting on September 6, 2021 the participants of the inter-faith working group agreed on the format and structure of the future publication. Its creation was initiated by the Institute for Religious Freedom with the assistance of the Ukrainian Council of Churches and Religious Organizations.
The manual is being developed for priests, pastors, other clergies, and volunteers involved in family, women, and youth services in churches and religious organizations.
This publication will help to conduct pastoral and educational work among the ecclesiastical and secular population, as well as effectively and timely respond to cases of domestic violence among members of religious communities and secular people who seek pastoral assistance from priests, pastors, or social institutions established by churches and religious organizations.
The inter-faith working group on countering domestic violence, which started working on the manual, consists of the representatives of the Orthodox Church of Ukraine, the Roman Catholic Church in Ukraine, the Ukrainian Orthodox Church (Moscow Patriarchate), the Ukrainian Greek Catholic Church, the Ukrainian Pentecostal Church, the All-Ukrainian Union of the Churches of Evangelical Christians-Baptists, the Seventh-day Adventist Church in Ukraine, the Ukrainian Christian Evangelical Church, the Union of Jewish Religious Organizations of Ukraine, and the Religious Administration of Muslims of Ukraine.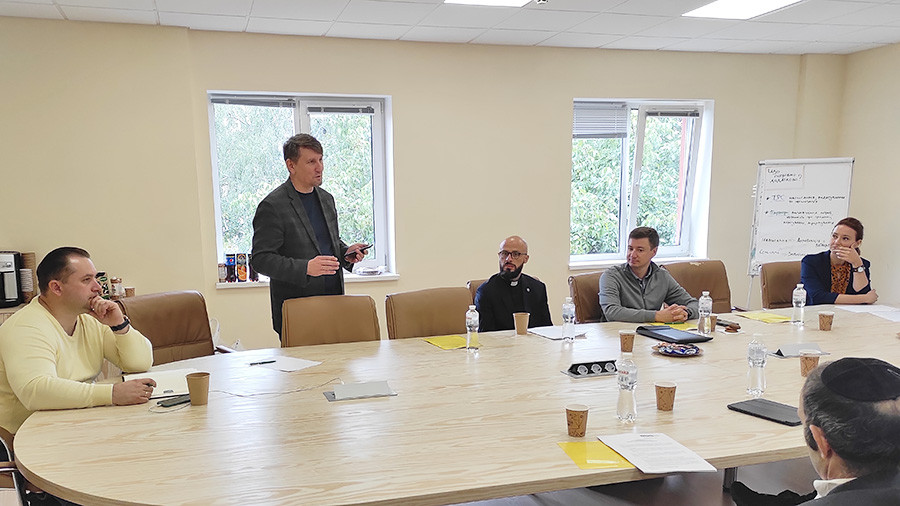 The Institute for Religious Freedom is implementing the project "Strengthening the capacity of Ukrainian churches for responding to domestic violence, especially against women" with the support of the Canada Fund for Local Initiatives.
Photo: Anastasia Zaiets