The issue of protecting believers and religious communities from persecution in the occupied Ukrainian territories of Crimea and Donbas was the subject of the conversation between Ukrainian religious figures and the British Lord Ahmad.
Representatives of the Ukrainian Council of Churches and Religious Organizations met with the high-ranking representative of the British government on October 6, 2021 at the British Embassy in Kyiv with the participation of Ambassador Melinda Simmons.
Lord Ahmad holds the positions of Minister of State (Minister for South Asia, United Nations and the Commonwealth) and Prime Minister's Special Representative on Preventing Sexual Violence in Conflict. In 2018-2019, he served as the Prime Minister's Special Envoy for Freedom of Religion or Belief.
Religious figures presented to Lord Ahmad the positive achievements of inter-confessional dialogue and church-state cooperation, which were made possible by the activities of the UCCRO.
The participants of the meeting have also discussed the efforts of Ukrainian churches and religious organizations in the field of education aimed at preventing domestic violence and helping families that are experiencing a relationship crisis.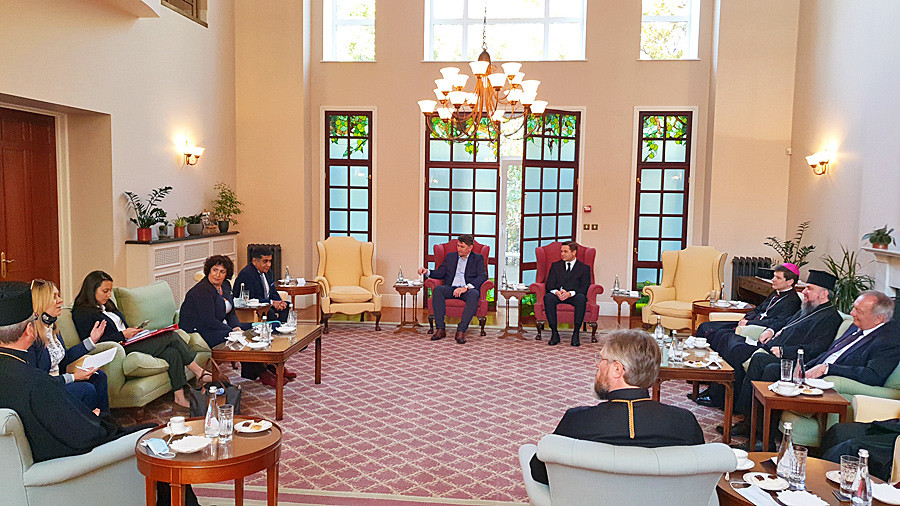 The Ukrainian Council of Churches and Religious Organizations was represented at the meeting by the UCCRO Chairman, the President of Ukrainian Bible Society Hryhorii Komendant, Primate of the Orthodox Church of Ukraine Metropolitan Epiphaniy (Dumenko), Bishop of the Roman Catholic Church in Ukraine Vitalii Kryvytskyi, Head of the Religious Administration of Ukrainian Muslims Sheikh Akhmed Tamim, Mitred Protoiereus of the Ukrainian Greek Catholic Church Fr. Oleksa Petriv, Protoiereus of the Ukrainian Orthodox Church Fr. Mykolay Danylevych and Pastor of the Ukrainian Evangelical Church Anatoliy Raychynets.
The meeting was also attended by the Board Chairman of the Institute for Religious Freedom Oleksandr Zaiets.