The Ukrainian Council of Churches and Religious Organizations met with a delegation of the World Council of Churches headed by the acting General Secretary Rev. Prof. Dr. Ioan Sauca.
The meeting took place on August 3, 2022, at the St. Catherine's Lutheran Church in Kyiv.
Ukrainian religious figures spoke about the challenges to religious freedom that religious communities in many regions of Ukraine are experiencing as a result of Russia's aggressive war against Ukraine. The participants discussed the problems of war crimes against religious figures and buildings. They discussed the abduction and torture of clergymen of various faiths by the Russian military, the shelling and destruction of religious buildings by Russian troops, the murder of church volunteers and activists, etc.
The meeting participants also exchanged experiences in interfaith dialogue and cooperation. The WCC General Secretary informed Ukrainian religious figures about the WCC Assembly scheduled for September this year and invited the UCCRO delegation to take part in this event with the status of observers. The Ukrainian Council of Churches accepted this invitation and delegated three representatives to participate in the WCC Assembly.
The meeting ended with an exchange of commemorative gifts and informal communication.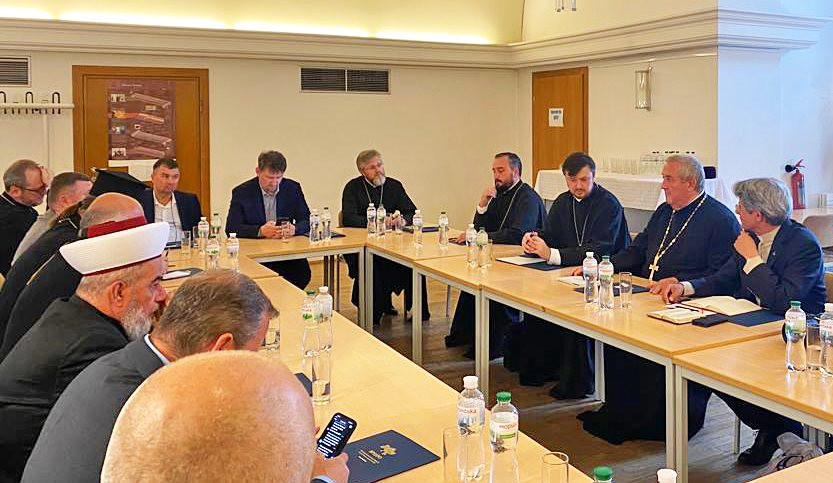 On the part of the UCCRO, the meeting was attended by: UCCRO Chairman, Bishop of the Ukrainian Diocese of Armenian Apostolic Church Marcos Hovhannisyan, Archbishop of Chernihiv and Nizhin of the Orthodox Church of Ukraine Yevstratiy (Zoria), Head of the Religious Administration of Ukrainian Muslims Sheikh Akhmed Tamim, President of the Seventh-day Adventist Church in Ukraine Stanislav Nosov, as well as representatives of the Ukrainian Orthodox Church, the Ukrainian Greek Catholic Church, the Roman Catholic Church in Ukraine, the All-Ukrainian Union of Evangelical Baptist Churches, the Ukrainian Christian Evangelical Church, Ukrainian Pentecostal Church, and German Evangelical Lutheran Church of Ukraine.
The meeting was also attended by the Deputy Head of the Office of the President of Ukraine Oleksiy Dniprov, General Director of the Directorate for internal and humanitarian policy of the Office of the President of Ukraine Pavlo Bilash, and Board Chairman of the Institute for Religious Freedom Oleksandr Zaiets.