The prayer event "Appeal to the Almighty for the protection and preservation of Ukraine" was held at noon on Wednesday, March 2, 2022, in the Cathedral of St Sophia in Kyiv on the initiative of the Ukrainian Council of Churches and Religious Organizations.
The Ukrainian religious figures appealed to the Almighty God to protect Ukraine from Russian invaders, stop the bloodshed that Russia caused with its aggressive war, for God's protection over Ukrainian cities: Kyiv, Kharkiv, Chernihiv, Mariupol, Kherson, and other cities and villages bombed these days by Russian missiles.
Prayers were also offered for the President of Ukraine, the Commander in Chief of the Armed Forces of Ukraine Volodymyr Zelenskyy, and the strengthening of the defenders of Ukraine – military and civilian volunteers – for a complete victory in defending the independence, sovereignty, and territorial integrity of Ukraine.
Prayers, words of blessing for the Ukrainian people, and appeals to protect Ukraine from Russian aggression were delivered by religious figures of different confessions:
Agapit (Gumenyuk), Archbishop of Vyshhorod of the Orthodox Church of Ukraine;
Bishop Vitalii Kryvytskyi, Ordinary of Kyiv-Zhytomyr Roman Catholic Church;
Bishop Oleksandr Babiychuk, Deputy senior bishop of the Ukrainian Pentecostal Church;
Marcos Hovhannisyan, Bishop of the Ukrainian Diocese of Armenian Apostolic Church;
Pastor Ivan Rusyn, Deputy senior bishop of the Ukrainian Evangelical Church;
Sheikh Akhmed Tamim, Supreme Mufti of Ukraine, Head of the Religious Administration of Ukrainian Muslims;
Fr. Toma Kushka, OSBM, an employee of the parish of St. Basil the Great of the Ukrainian Greek Catholic Church in Kyiv;
Fr. Mykolai Danylevych, archpriest of the Ukrainian Orthodox Church;
Pastor Anatoly Raichinets, Deputy general secretary of the Ukrainian Bible Society.
The prayer event was also attended by the Deputy Head of the Office of the president of Ukraine Oleksiy Dniprov and the Board Chairman of the Institute for Religious Freedom Oleksandr Zaiets.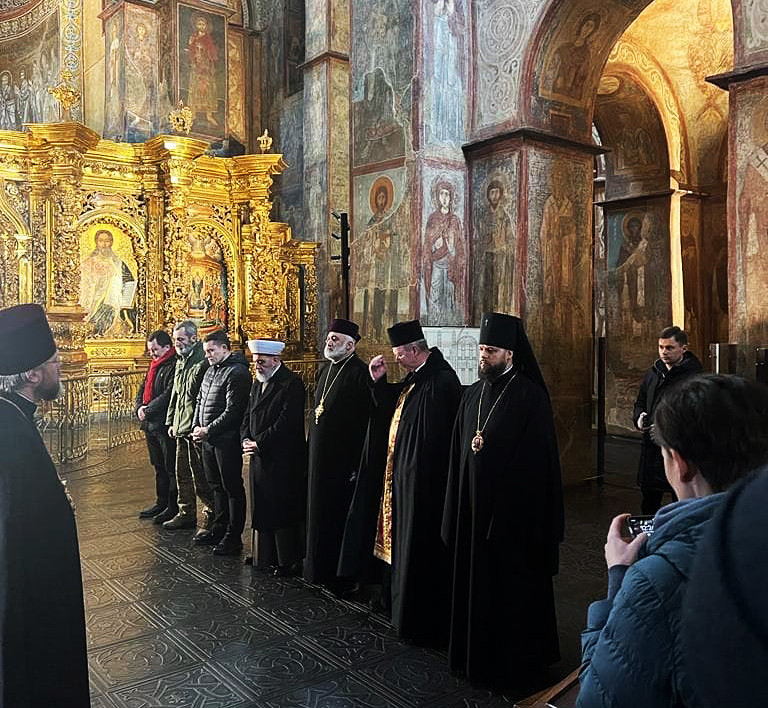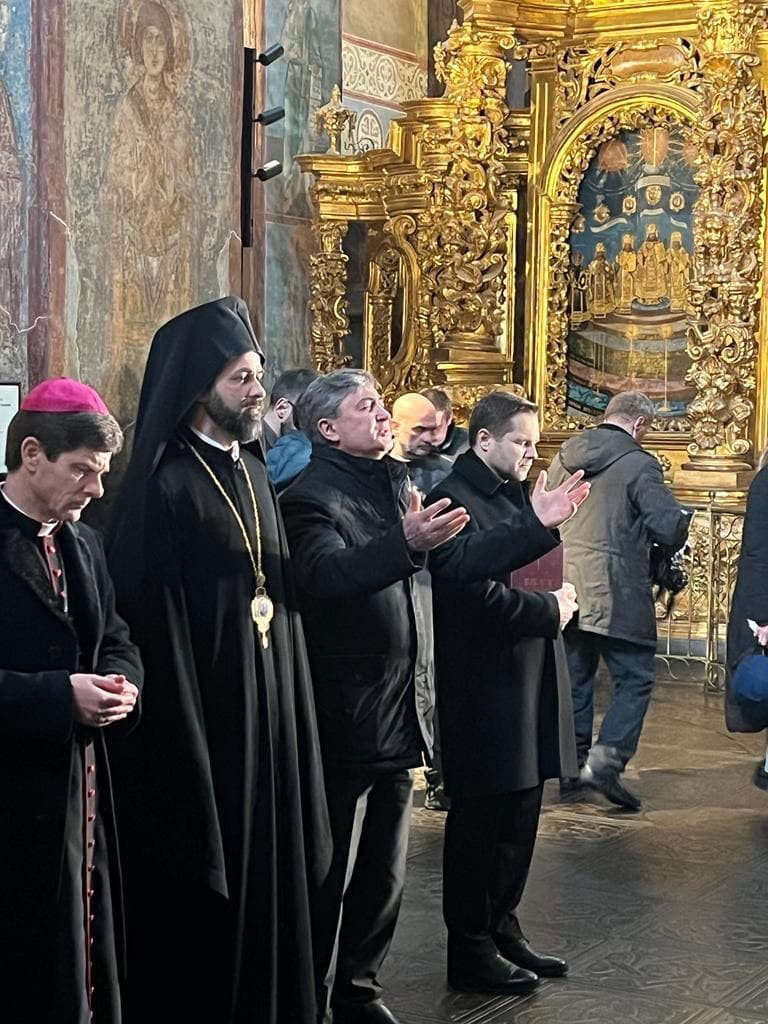 We remind you that yesterday, on March 1, the Ukrainian Council of Churches and Religious Organizations stated the possibility of a Russian air attack on St Sophia cathedral in Kyiv. In particular, the criminal practice of shelling administrative and residential buildings, which the Russian invaders previously resorted to in Kyiv, Kharkiv, Bila Tserkva, Mariupol, and Zhytomyr, increases the threat of destruction of the largest spiritual shrine and architectural monument of Ukraine.